WOSWA BOARD OF DIRECTORS
WOSWA, Women Students Mentorship Association: The Board of Directors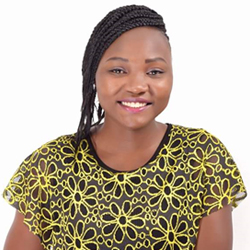 Mary Ojwang
Mary Ojwang is an award winner for All African Students Union (AASU) SheGame 2020 awards for gender equality champions and a Bachelor of Arts Economics Degree holder from the University of Nairobi . She has led several campaigns on gender advocacy calling to task policy stakeholders to give account for female rights in learning institutions.
Mary is a smart, intelligent leader. She has undertaken gender advocacy in learning institutions in Kenya, acting on matters that may directly or indirectly affect female students' development. It's her passion for leadership that earned her a short scholarship to Tsinghua University in China to join other like minded female scholars in discussing women's leadership and change across the world

Her policy is based on setting the pace for other young women and girls. It is for this reason that Mary contested for the position of Women's Representative for Vihiga County in 2017, and was the youngest woman political contestant. Although she did not emerge the winner, being the youngest women's representative contester in Kenyan politics was a tremendous milestone and a pace setter for other young women who would love to build their political career. Her inspiration to vie, other than setting the pace for other young women and girls, came from the thirst to represent and drive good leadership and governance.
Mary believes that politics play an immense role in the society even though a small number of women step out to run for political office. Her encouragement to contest for the women's representative office was not only about walking her talk. This action has also encouraged so many young women who are currently under her mentorship to step up and commit to vying in the future. In addition to her lacking experience and proper political mentorship there are several factors that contributed to her loss. Although she did not make it to parliament, she gained valuable insights from the experience which will be indispensable in future. Her vision is to see a vibrant community of young women that actively participates in governance and engages in decision making.