Innovation and Excellence International Women's Day
Theme 2020: #Each for Equal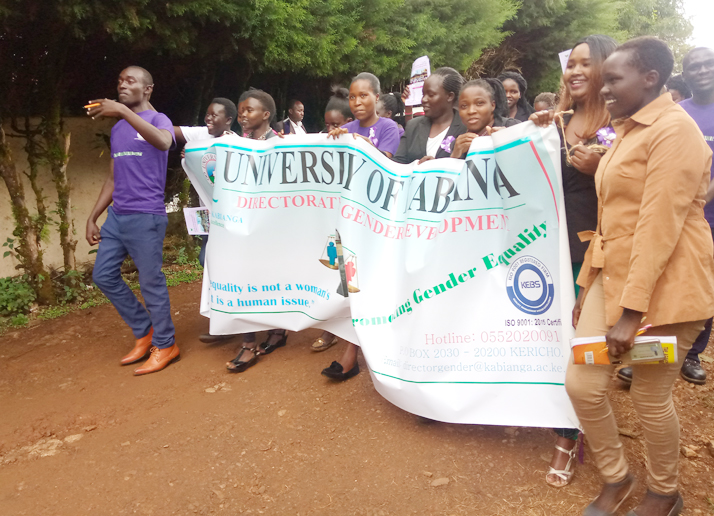 My speech is zeroed in #wecandobetter Background The International Women's Day logo is in purple and white and features the symbol of Venus, which is also the symbol of being female. International Women's Day is observed across the world on March 8. It is a global day that celebrates social, economic, cultural and political achievements of women.
The day also marks a "call to action" to increase gender equality. Who celebrates: All Mankind, all gender (Each for us) Megan Markle(2020#iwd says that, "I think that is the point: In many societies, it doesn't matter where you are, it's very easy to sometimes compartmentalize or silo this idea of International Women's Day solely being about women, but it's not.
It's about all of us." The celebration is more like celebrating each of you to stand with people you know admire and hang round with. The day also helps young and able men to continue to value and appreciate the women in your lives like your precious mother, sisters, nieces, cousins, girlfriends, friends, grandmother and many more. 2 A mission for each of us to achieve gender equality What can we, as individuals, do? Remember each of us is unique in one way or the other. We need to leverage on our uniqueness to enable us reach our goals and aspirations Your uniqueness is what makes you interesting. Your uniqueness is what others will relate to.
Your uniqueness is what will get you the sales, the clients, or the job. Your uniqueness is why people will want to love, like, associate and work with you Guided by your uniqueness you identify as a girl, boy, woman, man etc Your uniqueness will let you be secure in you lecture theatre, your hostel and all your other environment. It will help you in your studies and your career aspirations and your future life.
Whether you're an artist looking for a commission, or a writer seeking a freelance gig, or a musician looking to be hired for a tour, being authentic will set you apart. Some will call it branding, but how boring is that? Discovering your journey 2020 What is your journey like?
Can today's event improve, change or enhance your journey
1. Know and appreciate yourself (who am I?)
2. Ask your friends and family why they like hanging out with you.
3. What is good about you and can you improve on what is not good about you(your attributes)
4. Write about the things you love to do and why?
5. Notice what makes you feel authentic. Carry a notebook with you and write down whenever you feel authentic (and why), as well as when someone talks or give a speech, take note of the key points. You might use then later. Put a week or two's worth of notes together, and you can really get all the pieces of the puzzle.
6. Imagine your perfect work day. Think of what Your Perfect Day. 3 Where would you be? Who would be with you? What would you be doing? If nothing's coming, close your eyes and take the pressure off yourself. Just wait for it.
Once you have that image, or that movie in your mind, write it down or draw it or paint it or make it into a cartoon. Do away with the vampires around you like; I'm-Not-Qualified, I-Can't-Really understand it, I cannot do that assignment, I need to sleep more, I am still young to start working hard, I am not able to make money 18 years old and owns a home Prince Michael Jackson II who was famously nicknamed "Blanket" by his father, Michael Jackson bought a home in Calabasas, Calif., for $2.6 million. The house is in a 24/7 guard-gated community. Jackson, 18, who has now changed his first name to Bigi, has famous neighbors including Dr. Dre, John Travolta and O.J. Gender equality issues 
How can we help shape a world where your gender does not dictate your future?  Each of us needs to understand how his/her own thoughts and actions shape society/University.  The Each for Equal campaign urges each of us to challenge our deeply-held assumptions about girls and women, about their abilities and rights.  Silence always benefits the status quo and perpetuates situations of oppression.  Conversely, speaking up like we are doing today at University of Kabianga takes courage, determination, and a willingness to stand out from the crowd. 
Our thoughts and actions are powerful. 4  Our voices are powerful when we use them to speak up against the injustice  We testify, or to celebrate women's aspirations and achievements.  It is both an individual and collective responsibility to achieve justice, opportunity and equality for half the world's population.  The reasoning is valid both nationally and worldwide. 25 years after the 1995 Fourth World Conference on Women held in Beijing, the 2020 Generation Equality Forum will gather governments, the United Nations, civil society, feminist groups and other stakeholders to call for action and accountability for the full realization of the gender equality agenda.
 Priority issues and structural obstacles to progress on gender equality will be put at the center of the agenda, and stakeholders will make commitments along six thematic coalitions of action: Gender-Based violence, Economic justice and rights, Bodily autonomy and sexual and reproductive health and rights, Feminist action for climate justice, Technology and innovation for gender equality, Feminist movements and leadership. An outcome of the Forum will be the establishment of a mobilization strategy to make concrete progress on gender equality.
 Convened by UN-Women, co-hosted by Mexico (Mexico City, 7-8 May) and France (Paris, 7-10 July), and organized in partnership with civil society, the Forum is animated by a single, overarching ambition: streamline gender equality as an asset – and a prerequisite – to achieve any political objective, anywhere in the world.  At the end of the day, gender equality is not 'merely' an agenda item for the UN and the development sector. It is rather a necessity for human society to thrive – and perhaps even to survive – in a future of diminishing resources and mounting global challenges such as climate change. All of us must be #EachforEqual.
Now, communicate what you have to offer. Work with mentors, peers, friends, collaborators etc Now brainstorm how you can bring your uniqueness into your resume, your shop, your customers, your website, your blog, your email newsletter, your Twitter stream, your Mom's house, your university. Now you should be able to answer that elusive question#wecandobetter "The path, of course, is not always smooth, and may at times this year have felt quite bumpy, but small steps can make a world of difference."